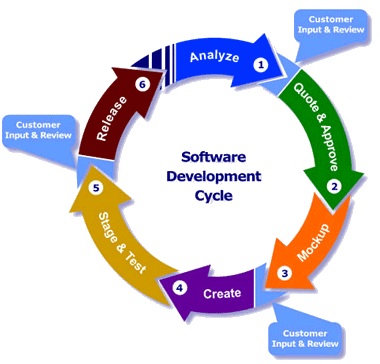 Software Development
Do you need customize software to improve the functionality of your technology initiatives? Are you not getting a desired or appropriate return on your business software investment?, or your software is simply too confusing to use then we have the solution of your all above said problems.
We are experts in web-based, distributed and standalone custom software and applications development according to your organizational needs and specification. We follow proven practices that allow for successful project completion, and deliver solutions that exceed customer expectations.
We can help you define efficient business processes that can improve your operational efficiencies and can save you time and money. We design softwares and applications according to your requirement and ease by getting involved in your systems.
Our software designs include easy to understand user interface prototypes, complete database models, and implementation / test plans. Our database development includes a data model, data dictionary, database normalization, and embedded stored procedures / triggers for maximum custom software performance.
Our services include: Website Hosting, Website Design, Logo Design, Flash Animations, Web Development, SEO/SEM ,Software Development,Database Design, Mobile Application.