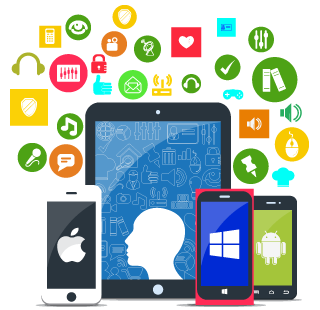 Mobile Application Development
Are you looking to hire mobile app developers? Intellimus, a mobile app development company, specializes in mobile application development services. Hire our mobile app developers today!
Mobile App Development Services
We design, develops and delivers and delivers mobile apps all the major platform, including iOS(iPhone & iPad), Android, Blackberry and Windows Mobile
Use mobile technologies effectively to improve productivity, lower costs, and enhance differentiation. Our vision is to give you the power to do whatever you wish from you hand-held device. With an increasing demand of going mobile, today's users need more processing power, reliability, flexibility, security and integration with their applications. The users no longer treat their hand phones and smart phones as limited tool for productivity, but want to have more and more power given in their hands.
Intellimus is Mobile Application Development outsourcing company with wide experience in Mobile Application Development. We have a team of creative and experienced mobile application developers to develop feature rich smart phone web applications. We have extensive expertise in mobile app platform including Android, iPad/iPhone, Windows, Blackberry Application development and mobile based website development.
Our team provides technology-driven mobile application development that meets the strategic objectives of the clients. We can help Develop, test and deploy mobile applications with our mobility focused engineering and design team. We at our offshore development center provide Mobile Application Development that encompasses the entire mobile application development cycle from initial design and architecture to development and integration into existing systems.
We offer mobile development with
Native iOS development using Objective-C
Native Android Development using Java
Native Windows Mobile Development using .NET
Cross platform Mobile Development using HTML 5
Our services include: Website Hosting, Website Design, Logo Design, Flash Animations, Web Development, SEO/SEM ,Software Development,Database Design, Mobile Application