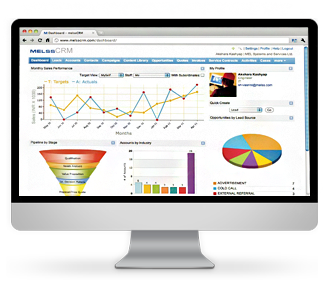 CRM MODULE
The Customer Relationship Management is one of the most crucial and at the same time relaxing task in the business operations. But mostly, it becomes hard to manage the customer and business relation because of the lack of tools and resources. The WebDesk CRM is a complete solution for the customer relationship management. Through its unique tools and strategic resources, you can benefit your every customer. Well, it has been designed by one of the best CRM Software Development Company in India.
This Customer Relationship Software in India provides a comprehensive database solution to manage your customer contacts and details.
Along with that, it provides a user-friendly interface for your customers through which they can interact with you. Through this platform, they can provide you the feedback about your business, can submit a request or simply they can convey their message to you.
Ahead of that, it provides a scalable environment to you through which you can respond to your customers and can flourish their demands. Certainly, this is one of the strategic plans to enhance your clientele. Further, the WebDesk CRM suits every business type and size. You can get this robust business solution at a very competitive and compelling price.
WEBDESK CRM ERP (KEY FEATURES):
Campaign Management
Contact Management
Sales Team and Customer Opportunity Management
Sales Force Automation
Lead Management
Account Management
Target Setting
Case Management / Customer Satisfaction
Activity Management
Calendar
Calls and Emails Management
Task and Notes Management
Document Collaboration
Meetings/ Schedule
Our services include: Website Hosting, Website Design, Logo Design, Flash Animations, Web Development, SEO/SEM ,Software Development,Database Design, Mobile Application